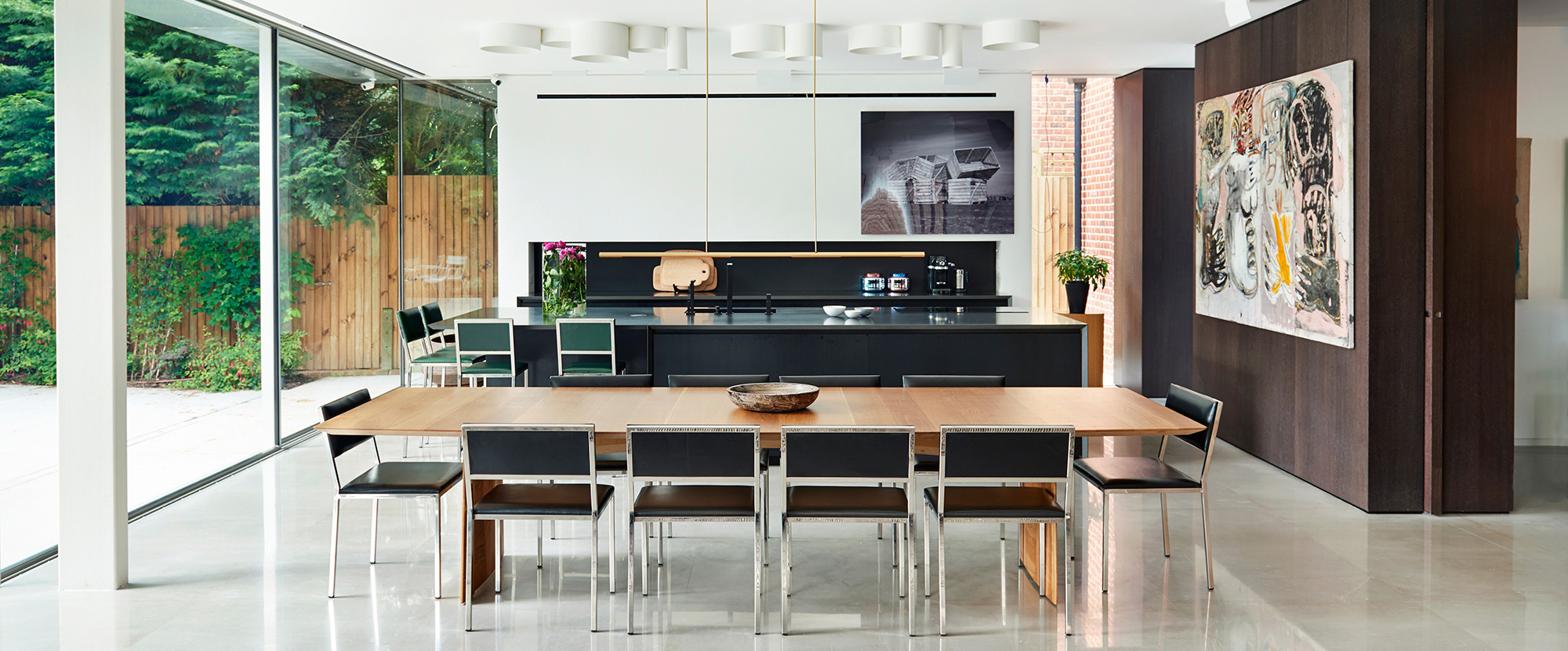 Bespoke Kitchen Design from Martin Moore
13 Jul 21
Built by the renowned master builder WG Tarrant, this beautiful period property in Surrey is home to a young family of five, and their excitable working cocker spaniel. Purchased the same week that the owners' identical twins were born, the Georgian-style house, although classically beautiful, was in need of modernisation, and the kitchen in particular was to undergo a major renovation.

Previously a maze of small interconnecting rooms, the owners chose to knock through and extend the space to create one spacious kitchen/dining/TV area, with bifold doors leading out into the garden.

It was important that the new kitchen be made from bespoke, handcrafted furniture and that it was substantial enough to sit comfortably within the grand proportions of the room.
Martin Moore
was the natural choice; all their kitchens are entirely built to order in their Yorkshire workshops, meaning there are no prescribed designs or sizes to limit either the client's brief or the designer.

The brief was to create a space that would impress when entertaining, but that was also highly practical and liveable for a family with three children and a rambunctious dog.

The kitchen area is U-shaped with a central island at its heart. Initially a subject of great discussion, the clients eventually decided on a rectangular design for the island, with a soft curved edge. The softer edge prevents the space from looking too blocky and also provides a more comfortable social space for family and friends to gather.

To one side of the island, the main sink is sited between two large sash windows whilst on the opposite side, a large fridge freezer and imposing glass dresser flank the entrance to the boot/laundry room.

The island is painted in a striking Cerulean Blue colour, whilst the rest of the cabinetry is painted in Pale Ivory. This combination allows the island to really pop and brings a sense of character to the space.

Before embarking on the renovation, the couple compiled a list of 'must-haves' and 'nice-to-haves', allowing them to whittle down what components and appliances were truly integral for the new kitchen.

The design was to centre around two main essentials: the Aga and the Gaggenau fridge, freezer and wine cooler. They had fallen in love with the Aga in their previous house and so Martin Moore incorporated a large 5-door oven into the design. Framing the Aga, Martin Moore's signature chimney piece defines the cooking zone and references the period heritage of the house.

Designer Andrew Wartnaby suggested doubling up on certain features and appliances; a second sink was integrated into the island and acts as a prep sink whilst two dishwashers were included in the design, a practical design element that has become one of the owners' favourite features of the kitchen.

Warm brass finishes feature throughout, complementing the handpainted cabinetry and adding visual interest to the space.

A beautiful floor-to-ceiling glass dresser is situated at the head of the dining table. When entertaining friends and family, it forms the central hub of the room, acting as a glamorous bar area. Day to day, it provides extra storage for the couple's wine collection and for glassware. A different shade of blue was used for the dresser, helping to distinguish between the bar and the kitchen area. An antique mirror backdrop lightens the scheme and reflects natural light across the room.

A spacious larder cupboard is sited next to the dresser, storing dry ingredients, oils, sauces, and other culinary items out of sight.

Beyond the dresser, stone steps lead down to the TV/living area where the family can come together and socialise in an informal way. Martin Moore designed the TV/display cabinet and bench seating to offer additional storage. Bifold doors lead straight out into the garden and fill the room with natural light.

The striking boot/laundry room was designed to maintain peace and order in a busy household of five. The entire back wall of the room has been re-fitted with open shelving, storing shoes, summer hats, bags, and the children's toys. Boots and wellies are stored underneath bench seating whilst coats and jackets hang neatly above. The handpainted cabinetry, also from Martin Moore's New Classic collection, is perfectly contrasted with polished brass fittings and warm wooden accents.

Kitchen Details:

Cabinetry: New Classic collection painted in 'Pale Ivory' and 'Cerulean Blue' | Dresser in 'French Grey'

Boot room: painted in 'Viridian'

Worktops: Bianco Eclipsia quartzite

Flooring: Aged Milton limestone from Martin Moore Stone