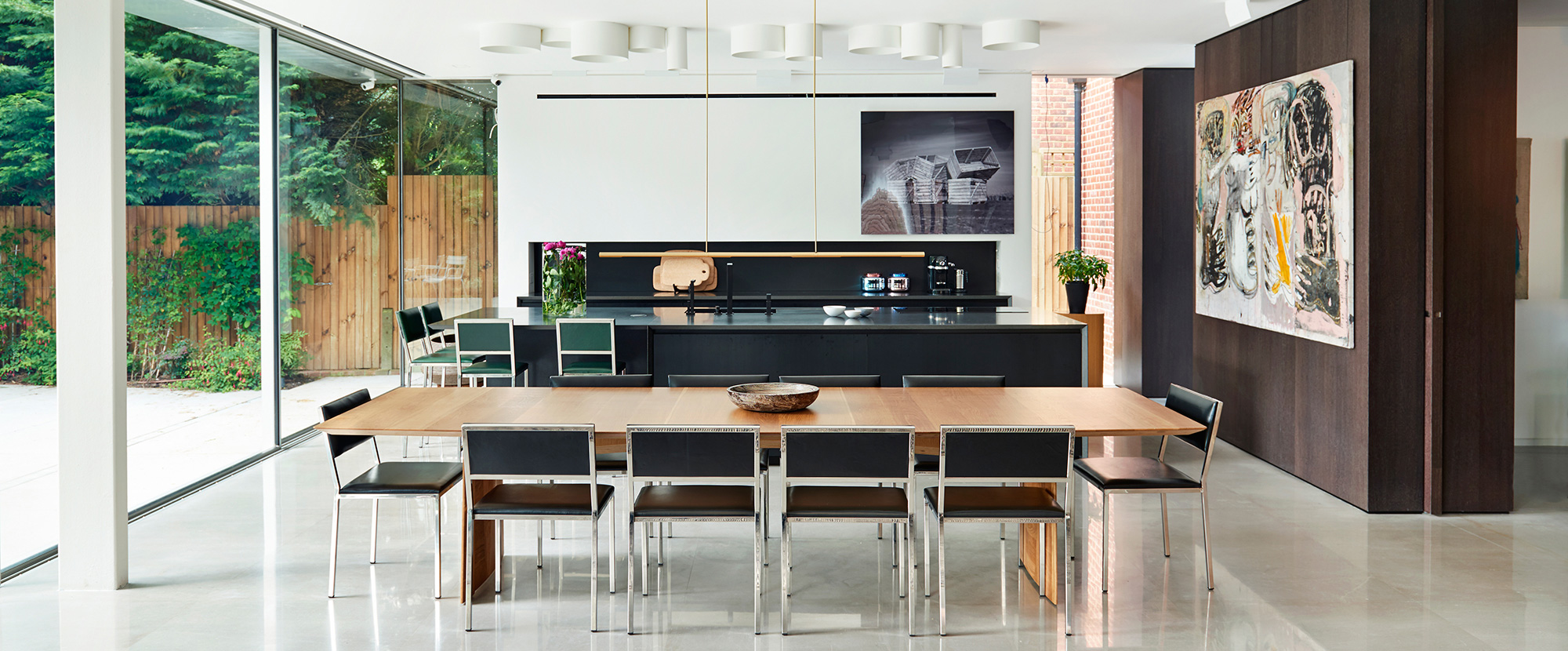 The Perfect Synthesis
17 Jul 19
Determinedly modern in function and aesthetics, it's an exciting contrast to the original mediaeval building, whilst at the same time honouring its heritage.

Involved with the project from its inception,
Martin Moore
were asked to create a perfect synthesis between old and new … A high-function bespoke kitchen combining heritage materials and craftsmanship with a modern twist.

Despite living in an important historic building, which she has restored over several years, the client enjoys contemporary design and unexpected detailing. This kitchen was her opportunity to add something new, exciting and intensely personal to the site.

Carrying through the hallmark style of the building, classic natural oak was a must for much of the cabinetry, but it was given a contemporary edge with gleaming chrome door inlays and handles. Hand-painted cabinets and an industrial-style bank of Gaggenau and Sub-Zero stainless-steel appliances also act as visual counterweights to the timber, keeping the mood modern.

The painted furniture, walls, ceiling and porcelain floor use a palette of warm whites and soft neutrals, allowing focus materials and subtly decorative elements to take centre stage.

Design details include characterful 'wild quartz' worktops, quirky marble chandeliers and carbon fibre bar stools; all traditional in concept but entirely contemporary in their realisation.

The island is a primary cooking zone, featuring a large induction hob. Rather than block the view through the kitchen with fixed extraction, Martin Moore incorporated a pop-up extractor, which efficiently controls cooking smells and moisture. A deep overhang on the far side of the island creates a breakfast bar and makes a great place for friends and family to perch and lend a hand.

This new kitchen could not be more different from the small, cramped area which previously served the house. As well as connecting directly with the beautiful mature gardens, it offers a spacious cooking/informal eating/living room where the whole family can congregate.

Storage becomes a key issue in open plan rooms like this, to prevent clutter spoiling the clean lines and sense of space. A series of carefully planned cupboards keep kitchen essentials behind closed doors; from the pantry cupboard to the appliance cupboard, the island and the long run of base cupboards which defines one side of the kitchen.

Complete with everything from a coffee machine and toaster to a drinks fridge and sink with a boiling water tap, the appliance cupboard serves both the indoor and outdoor seating areas.

Being involved early in the project enabled designer David Sant, from Martin Moore's Notting Hill showroom, to liaise with architects and builders from the outset. He persuaded the client to sacrifice a wall of glass doors for a solid wall with windows, creating space for an important run of base cabinets and clarifying the zoning. The layout of the kitchen was critical, both to integrate it within the new building and to optimise views and access to the garden.