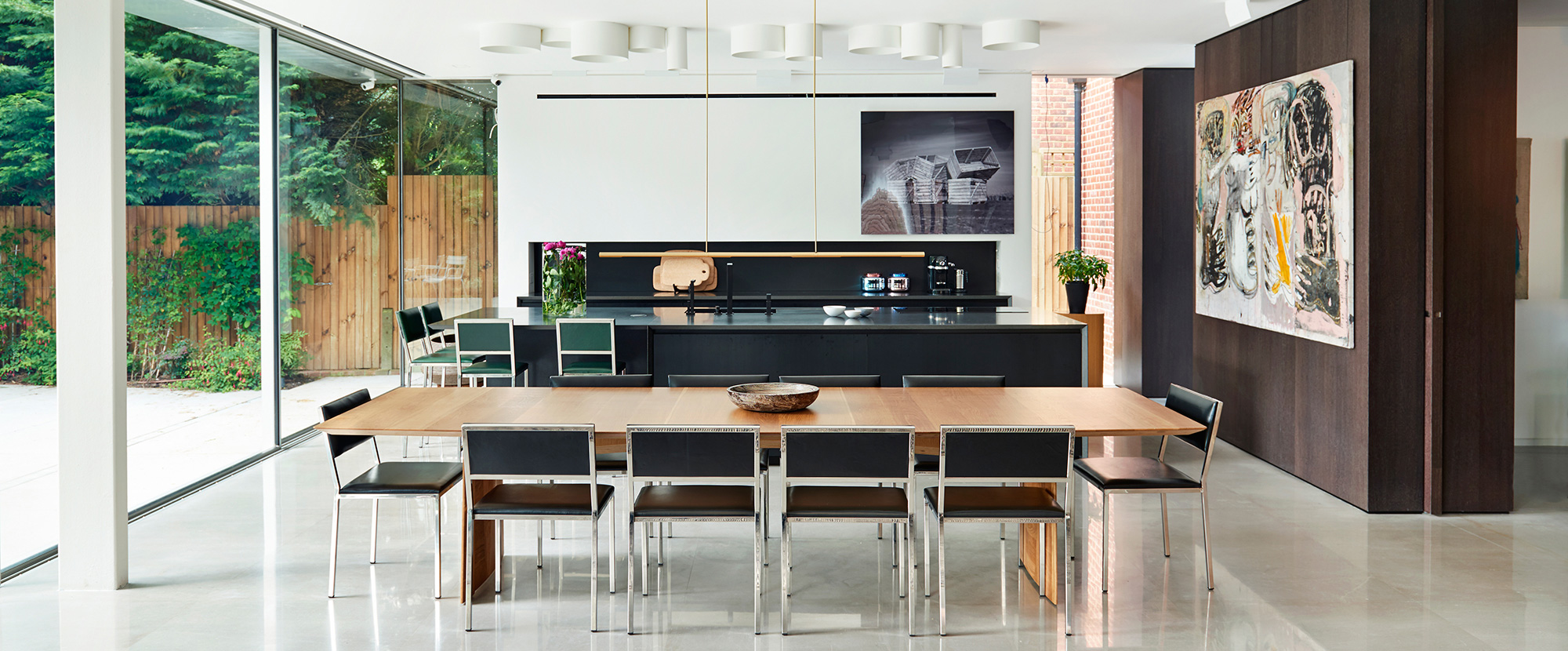 Connecting with Colour
25 Mar 19
The kitchen itself was a long time in the planning, a new addition to a much loved family home in Kent. The large garden of the 1930s house offered space to take down an old conservatory and replace it with a sizeable new kitchen/dining extension - still flooded with natural light and looking out onto green space.

This connection with the sky and garden is carried through into the kitchen via the bright colours of a painting bought by the clients whilst holidaying in Canada several years earlier.

The painting also inspired the glass hob splashback, screened with a reproduction of the original image. The two renditions now sit opposite each other in the kitchen, exactly as the clients had envisaged. Specially mixed, the warm orange paint for the island matches the painting, as do the bar stools and the three colours of chair which surround the kitchen table.

There are a lot of statement elements in this bright kitchen, all skillfully conceived by
Martin Moore
designer John Davies combined with the clients' natural sense of style. Getting the structure and zoning right allows everything to sit calmly in place; from the hob area, housed within a newly built chimney breast (a Martin Moore hallmark), to the way in which everything radiates out from the working zones. This includes a beautifully fitted out larder cupboard situated at the cook's right hand - this was the piece which first drew the clients to Martin Moore's Tunbridge Wells showroom.

Finding out that every Martin Moore kitchen is designed and custom-made to order in the Yorkshire workshops, the clients realised they could commission exactly the design they wanted. This included the simple, elegant cabinetry (handpainted in a soft green inspired by the painting) and the plain white worktops which 'ground' the design in the space.

The joyous mixture of colour and light in this kitchen signposts its purpose, providing a warm and inspiring area at the heart of the house for family and friends gather to socialise, cook and eat together. And underpinning it all is the care with which it has been equipped and organised.

A tall cupboard adjacent to the dining area is a dedicated breakfast cupboard, complete with a coffee machine, microwave, sink and boiling water tap. Family and guests can help themselves to hot drinks at any time without getting under the cook's feet. Meantime, the cook is working in a zone which has generous hob space (gas and ceramic), three ovens, fridge/freezer, wine fridge, dishwasher and sink all just a step away from one another. It's a set-up which even a professional cook might envy.